HWCOM Office of Information Technology is now live with Medzen Help Center!
Our new ticketing system, Medzen, is part of our continuous effort to gain efficiency and improve customer service and communications to better serve our organization, students and workforce members.
Zendesk, which we re-branded for HWCOM as Medzen, is a ticketing system used by hundreds of colleges and universities globally including the following noteworthy:
University of Michigan Medical School
Stanford Department of Medicine
University of Colorado Anschutz Medical Campus
University of Chicago Pritzker School of Medicine
Harvard Medical School
Medzen serves as an additional resource for you to manage your IT Help Desk requests centrally, including access to Self-Help Knowledge Base for answers to some common questions and problems. We will continually add content to the Knowledge Base that we identify useful for faculty, staff and students.
The existing methods for submitting IT requests will still be available via com-ithd@fiu.edu, phone (305) 348-4843 or in person at the HWCOM IT Help Desk.
We encourage everyone to take advantage of what the Medzen Help Center provides:
Submit your requests online

Keep track of all your IT requests with information on IT agent comments and status in My Activities section


Access to answers and recommendations to common questions or problems in the Self-Help Knowledge Base section

Stay informed of any HWCOM IT news or alerts in the Announcements section
Your feedback and suggestions for enhancing the Help Center is very important to us. Let us know what you would like to see whether it is feature or knowledge base content! Kindly share your feedback and suggestions with Winnyanne Nelson, HWCOM Director of Information Technology, at wnelson@fiu.edu.
Please find below information on how to access Medzen Help Center and email notifications you will receive.


How to Access Medzen Help Center:

Go to https://medzen.fiu.edu and use your FIU AD credentials to log in. The address will route you to the following login page.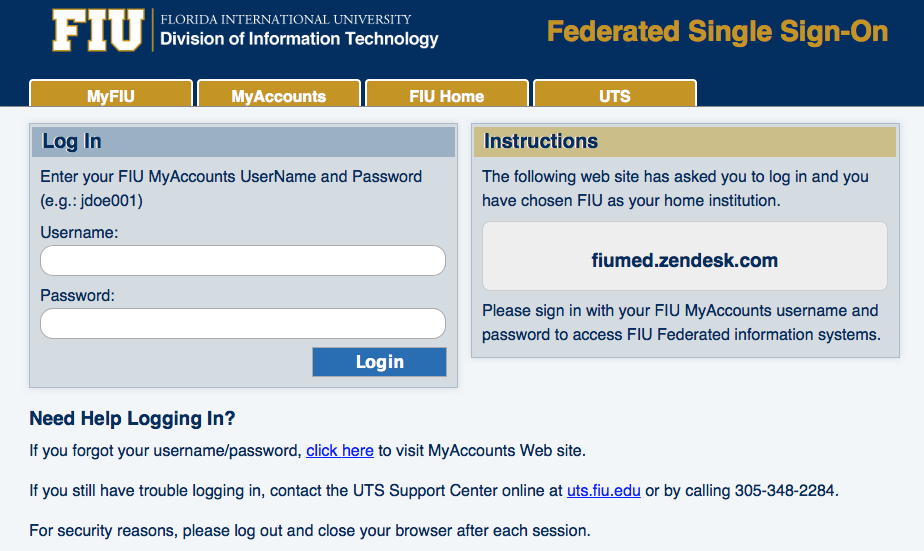 You will receive an email notifications:
Once an IT Care Agent is assigned to your ticket, you will receive the following email notification with information on the assigned dedicated agent and your Medzen Ticket number.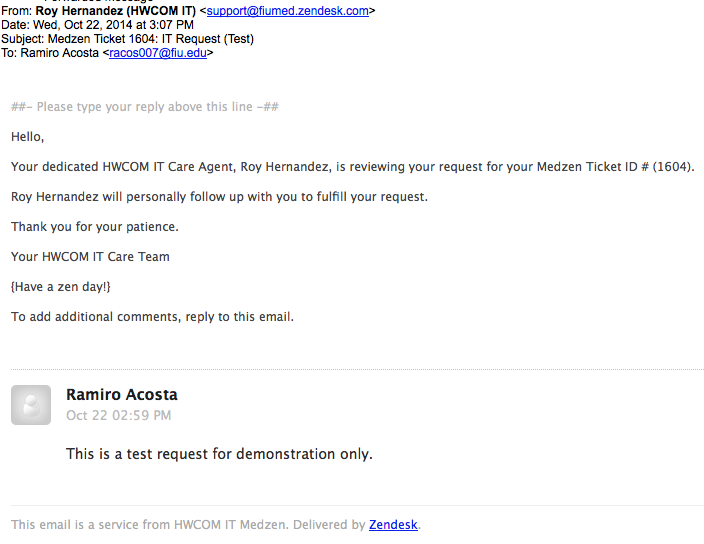 Please check out Getting around your Help Center in the Announcements section for additional information on this site.
Your HWCOM IT Care Team